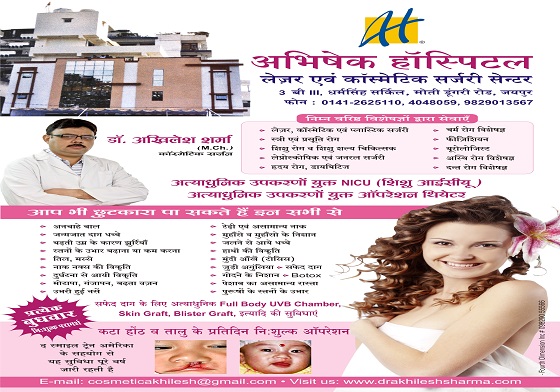 Why Choose Us?
Abhishek hospital is one of the best multi-speciality hospital in Jaipur which provides a high quality of team experts. We as a specialist are dedicated in all types of plastic surgeries and non-surgical treatments for skin, fitness, hair and overall body. We provide excellent treatment & services in context with cost-effective medical facilities. For us, the patient's safety and satisfaction are at the top priority.

A Unique Team of Doctors & Medical Professionals
Meet the specialists who have devoted their careers to treating body in any conditions.
DR. AKHILESH SHARMA

Plastic, Cosmetic & Laser Surgeon

I realized that my hair were shedding since few weeks, as soon I visited Abhishek hospital I got to know about my hair fall problem and also best solution for it.
I was very fit before my first delivery but later on I had lost the shape and so I opted tummy tuck surgery to get back my flat belly. Thanks
I saw visible wrinkle lines on my face much before its natural age and that thing was hindering me. I visited Abhishek hospital and undergone skin rejuvenation and got flawless skin.
I was suffering from pigmentation and after getting treatment done at Abhishek hospital I have and feel much refreshing skin. Thanks hospital for the lovely work and efforts so made.
After I met an accident I got a mark on my lips, which was not at all looking good, I went for lip surgery. Now I have smooth lips as others.
Patient Safety
Our Patient is Our First Priority So it Encourages Our Organization to Stay Focused and Loyal Towards them.
Security
We provides Services like Emergency Telephones, Escort Service, Hospital Hours of Operation, Emergency Department etc… So that our Patient Feel Secure.
Experience
Abhishek Hospital is considered as the most Experienced Hospital in its Area that deliver the best Health care to the people.
Quality
Providing Quality Health Care Since 2010 At Jaipur with remarkable Medicine ,Care and Treatment.
24X7 Available
We provide you Excellence to Every Patient at Every Time. Added innovative ,consistent and continuously improving health and medical care.